---
How to Retire the Cheapskate Way: The Ultimate Cheapskates' Guide to Retirement.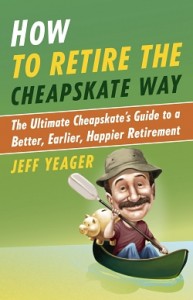 Jeff Yeager has an interesting approach to preparing for retirement- he, like few brave others, purports that reducing spending is more powerful than the generic brokerage house and financial planner/pundit advice to save a $1-$2M retirement nest egg.
Jeff should know, he managed to retire at age 47 from his moderate-salary job running the books for a non-profit in DC.  He is 'selfishly employed' (more on this) as an author/authority on frugality and maintains a personal network of hundreds of 'miser advisers'.